Call for creativity, roaming installations and costumes
Science March Vienna is initiating an open call for participants to consider broadening their creative contributions beyond the realm of posters, into costumes and march-able (art) installations.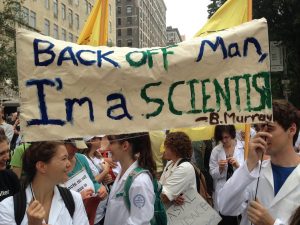 Eye-catching elements can bring stronger attention, not to mention better press coverage, to the movement and the passion of those marching for the cause. Through humor, beauty, and inspiration, creative elements help to increase awareness and humanize the many different facets of the movement, promote and bolster the enthusiasm and positive energy of the marchers, and foster good will for the marchers from bystanders.
Costumes, mobile and wearable art installations, and multi-person sign campaigns are just a few of the ways that marchers can personally help strengthen global awareness of the Science March Vienna causes.
Here are a couple of recommendations
1. Remember safety first: You and your work will be surrounded by people at all times, and space can get tight. You are solely responsible for monitoring your work, and for the safety of the marchers around you in relation to your work, at all times.
2. Remember that this is a march: Your work will be on the move. Whatever you bring must be marched by you and/or your team, and cannot block the flow of movement of those around you or the march at large.
3. Remember the environment: Please do not bring anything that creates litter or waste to be left behind. And if you do so, take it with you.
4. Remember to have fun: The more creative/clever/original/funny you and your work are during the march, the more you are helping to bring awareness to the cause!
Contact: Monica LoCascio at arts@sciencemarchvienna.at