When marching for Science in Vienna this Saturday, participants will walk along a route full of scientifically relevant places in Vienna's City center. During our preparations of this event we developed the idea, identifying and tracing spots, buildings, streets and places related to science and research. Thanks to the great work of Monica LoCascio and Federica Comoglio, we may present first outcomes on this interactive map, which will be completed with further relevant information also after the March. If you do have any comments, additional information or corrections, feel free to contact us via arts@sciencemarchvienna.at.
What and where are the scientific traces and spots to discover during Science March?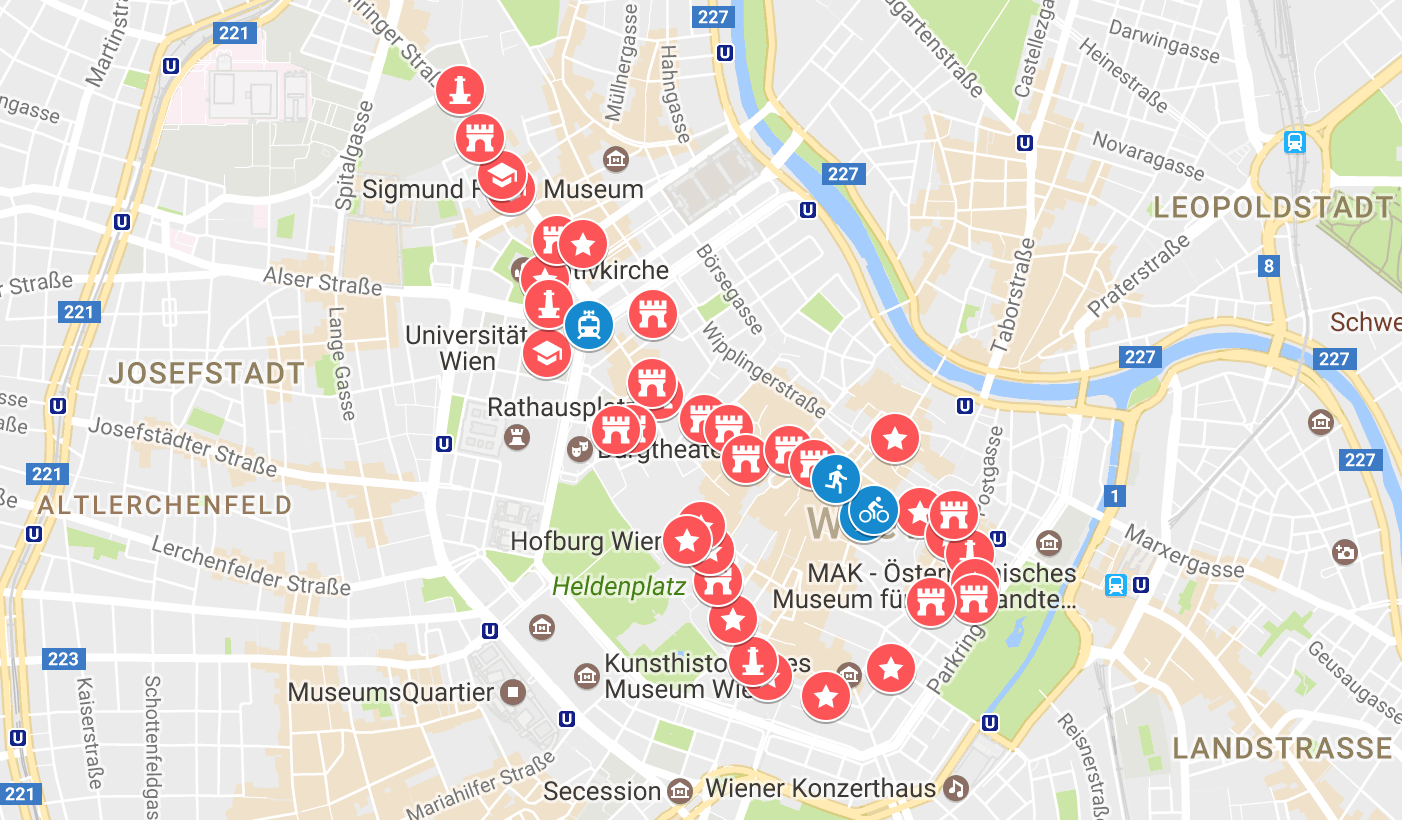 Already at the starting point at Sigmund-Freud-Park, marchers are surrounded by university institutions: The main building of University of Vienna is within sight, just around the corner at Währingerstraße 13 there are the Anatomical and the Pharmacological institute of Medical University, and a bit up the street, right in front of the Institute of Chemistry and Physics, there is a monument for the chemist Carl Auer von Welsbach, who invented the gas incandescent lamp.
The March will walk on to Freyung, Tuchlauben, Stephansplatz and Wollzeile, where you may pass the Aula of Science, a meeting place for science and society. Moreover, Joseph Johann Mastalier established Vienna's first hospital for children in 1787 at Wollzeile. His pediatric institute took medical care of children from poorer families free of charge. A bit further, at Zedlitzgasse 7, we find a memorial tablet remembering Austrian Nobel prize winner Berta von Suttner and her peace society, as she lived and died in this house.
Next important point of focus is Schellinggasse, named after the German Romantic-pantheistic natural philosopher Friedrich Wilhelm Joseph von Schelling. The route is further passing Albertina and leading up to Josefsplatz with the Austrian National library, being and independent institution since 1575, and Michaelerplatz. Here, you may take a look at cleared archaeological excavations, which are permanently accessible to the public since 1991, as an exhibition center of the Vienna Museum.
Science March will end directly in-between the two major museums on Ringstraße: We will meet on Maria-Theresien-Platz with Naturhistorisches and Kunsthistorisches Museum on left and right. Both magnificent historical buildings do not only show enormous exhibitions of their kind, but are also committed to research and knowledge sharing.