In early March, there was a Facebook-page and some good ideas. On April 22, we became part of a worldwide movement with more than 500 Marches for Science: Approximately 3000 participants marched through Vienna's City center and made their position clear: "Science, not Silence"; see the excellent report by the Austrian Press Agency APA. (in German)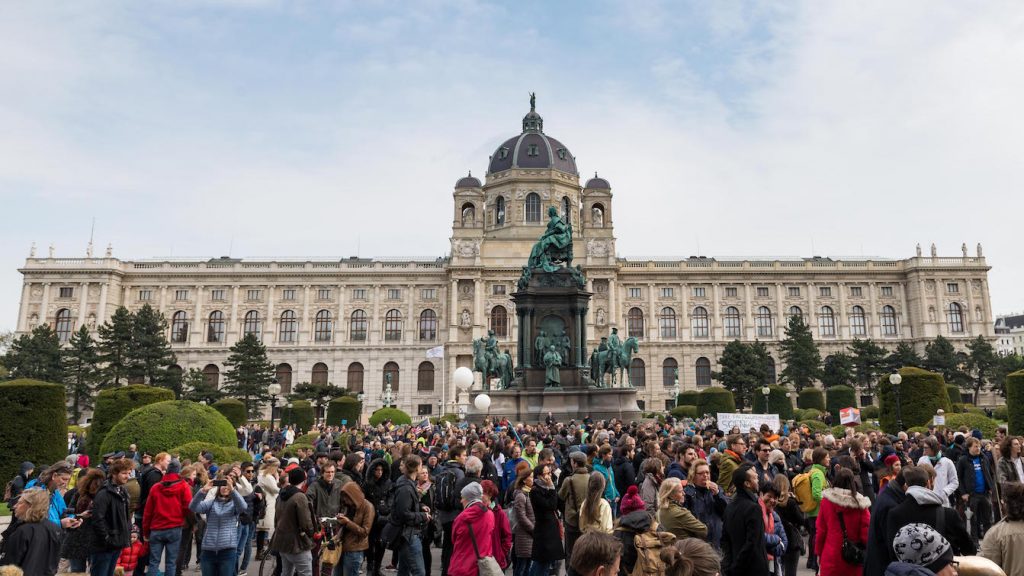 The event was as manifold as science is: A Science Picnic with fascinating contributions by the ScienceCenter Netzwerk and Bernhard Weingartner with his Physikmobil, a march directly through the center of Vienna, passing Stephansdom and walking through the Hofburg up to the Museum of Natural History, a walking Allosaurus, speakers, the choir Gegenstimmen and the registration desk for the stem cell donor database of the Medical University Vienna  – a fascinating mixture of engagement, fun and enlightenment, aka: the Love Parade of science.
But Vienna March of Science was not limited to the Austrian capital: all nine Styrian universities attended with a highly visible delegation, the Institute of High Energy Physics of ÖAW (HEPHY) sent regards from their retreat in the Austrian Alps, and palafittes research divers unrolled posters on the ground of Attersee near Weyeregg.
There is a broad media coverage of our event, not only in Austria: The BBC gave a global overview on the events and mentioned Vienna March in a special paragraph. We collected important reports in our media-blog, with more articles coming within the next days.
The amazing and funny pictures give a great impression of the atmosphere at the event. We collected them on a web-page, with other sources. The video gives a concise overview of the Vienna March for Science.
Many participants posed the question, what will come after this event. I gave some suggestions in my speech. Some mayor points:
Scientists may shake off timidity and participate in current debates. Maybe not always, but at least more often. They may participate with their abilities: expertise, consideration, rationality – and passion for science.
And the public sphere may take a step forward towards scientists, ask them about scientific background in current topics, invite them participating in political arguments with knowledge – even if it may be risky with findings not corresponding with preconceived opinions.
To sum up: Science, not silence.
Oliver Lehmann