Press release, 4.4.2017
Fixed route of Vienna Science March • Scientist are invited to contribute activities • Increasing numbers of contributors •
The organization team of the Vienna March for Science presented further updates on the activities regarding the demonstration on April 22. Three weeks prior to the event, head of organization committee Oliver Lehmann explained: "We will start at 1 p.m. with a 'Science Picnic' at Sigmund-Freud-Park. We invite participants to bring along a choice science exhibit, experiment, or idea to be presented to the crowd." For more details see http://www.sciencemarchvienna.at/en/vienna-march-for-science/science-in-action/.
Starting at 2 p.m. the March will move through the city centre. Scientific or art installations, costumes and posters are highly welcome during the demonstration. For details see http://www.sciencemarchvienna.at/en/vienna-march-for-science/science-in-arts/. The route will take the participants from Freyung, Tuchlauben, Stephansplatz, Wollzeile, Schellinggasse, Walfischgasse and Albertina up to Michaelerplatz and Burgtor. The March will end at Maria-Theresien-Platz with a final event starting at 4 p.m. and Elisabeth Oberzaucher (lg-Nobel-Prize-Winner in 2015), and Sciencebuster Martin Puntigam hosting.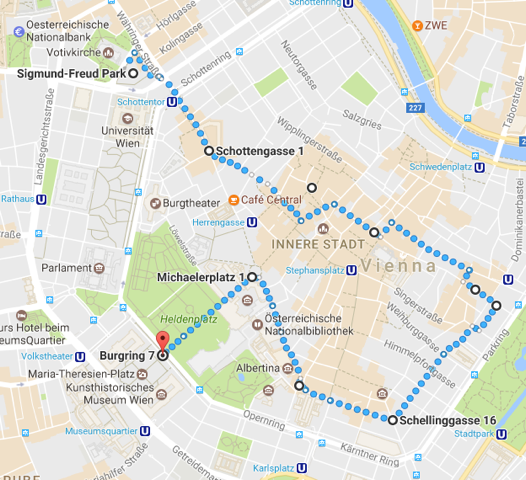 The growing number of supporters shows the high acceptance of the March for Science worldwide (more than 400 events worldwide on the same day) as well as in Austria, too. Not only rectors and scholars, but also students and friends of science are signing for support on http://www.sciencemarchvienna.at/en/supporters/. Institutions such as the Austrian Academy of Sciences and Universities Austria uniko also expressed their support last week, as well as European Geosciences Union EGU. Their General Assembly 2017 with more than 12.000 attendants will take place only one day after Vienna Science March.
Further supporter is the Austrian students representative council, informing more than 350.000 students in Austria about the Science March with its newsletter. "This wide and broad encouragement highlights the high importance of this event, marching for a strong and free science – all over the world. For instance, the current attacks on Central European University by the Hungarian Government are alarming. Therefore, we will meet already tomorrow at 5 p.m. at the Hungarian Embassy in Vienna (Bankgasse 4-6, 1st district) to show our support for CEU and academic freedom", said Oliver Lehmann from the organization team.
Further questions:
Oliver Lehmann
Head of organization team
www.sciencemarchvienna.at
lehmann@sciencemarchvienna.at